Round Towers 2-9 Sylvesters 2-4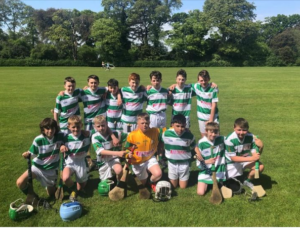 Our u12 boys (White Team) finished off their grading matches with a trip to Malahide to play St Sylvesters in hurling on May 14th. Set in the grounds of Malahide Castle and with the sun shining it set the scene for what was to be a super match. The first half was very competitive with both sides displaying great skills and determination. A goal just before half time saw us lead by 2-2 to 1-1 at half time.
The home side dug deep and scored a goal early in the second half to bring the sides level. Towers responded well to this set back to with a number of well taken scores from play and frees. Playing with determination Towers kept going to the end and were unlucky not to raise a few more green flags. The team played well as a unit throughout and were delighted with the result to go with their efforts. They have been improving their skills throughout their grading games and hopefully with practice this will continue .The future looks bright for this group of young players.
We're always on the look out for new players in both hurling and football for boys born in 2010.If interested please contact Willie (087 787 0388) or John (087 6627285).
Again a big thank you to Trade Hire Construction Recruitment for kitting out our teams so well. @tradehireireland